3. Emphasis on Personal Revelation

Charismatics talk about hearing God's voice on a regular basis. I'd say they're pretty obsessed with God's voice. I've heard people say he told them where to find their misplaced phone, what they should cook for dinner, and at which store they could find their new sofa. "It's as if he was standing right next to me," they would say. As a kid I thought it was so awesome that God talked to people, and I wanted to hear God too. I wanted him to tell me exactly what I should do each day, as he apparently did for so many others. I was on a journey to "hear God's voice." I don't recommend it. It will drive you crazy. A charismatic pastor once recommended a book titled

Dialogue With God

. Schizophrenics beware! I threw it away a long time ago. Actually I recycled it, but the point is it's out of my life. This book suggested praying to God, and then waiting to hear his response, writing down any words that come to you. When the words stop flowing, read what you have. If you aren't sure if they are God's words, or yours, or Satan's, you should ask a spiritual counselor. How maddening, right?

I was encouraged so many times not to make a decision unless I had a word from God. I should ask God which college to go to, which job to take, who to marry. If I wasn't sure what God wanted me to do, I shouldn't act. But it was okay if I didn't hear from God because someone at church would "have a word for me." Of course, it always left me even more confused. I was told that if I couldn't hear his voice then the Holy Spirit would give me a feeling, letting me know what I should do. Well, the only feeling I've ever felt confident about is that the things I saw and heard in the charismatic church were whack.

Now, sometimes I feel compelled to do something, or sometimes scripture will come to mind, and I do believe the Holy Spirit illuminates his Word for us. But I wouldn't be so bold as to say "God told me." I might say that I

believe

or

feel

that he is teaching me something, but I wouldn't be so definitive. God's words are special and I will not so casually utter the words, "God told me."

About seven years ago I read another book,

Decision Making and the Will of God

. This book was so freeing! Finally, someone validated my beliefs that it's destructive to attempt to discern God's voice or his specific will for our individual lives. He has already told us his will and it is written in his Word. I now live as a confident and productive Christian, doing the things that he has already, in the Bible, called me to do, and making decisions with the Biblical wisdom and counsel he has given me. I no longer worry that I'm making the wrong decisions all the time.

This is part two of a three-part series. For part one click here and for part three click here.
Powered by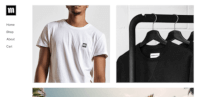 Create your own unique website with customizable templates.