I grew up attending churches that are considered charismatic or Pentecostal or continuationist. They believe that all of the spiritual gifts, including the more extraordinary gifts like tongues, prophesy, and healings are still in operation today. My intention of this post is not to belittle anyone or any group of people. I share this with the hope of preventing others from experiencing the chaos and confusion I felt as a charismatic. Throughout this post it may seem as though I'm making general statements about all charismatics. Please keep in mind that I'm of course not referring to every single charismatic, but a large number of them.

I think charismatic churches are appealing to a lot of people because, for one, every Christian wants to be close to God. Charismatics teach that we can hear his voice and know his specific will for our lives. People are also fascinated by miracles, and charismatics seemingly experience God's miracles on a regular basis. People also get bored easily. Charismatic services have dancing, shouting, loud music, the mysterious speaking in tongues, the casting out of demons, people being slain in the spirit (that means falling over because the power of the Holy Spirit has overcome you), sobbing, running laps around the sanctuary…pretty much anything goes, and every service is different. That's exciting to a lot of people. Also, not a lot is expected of anyone, intellectually. In my experience, theological discussions were avoided. I even remember pastors making fun of theologians because they "rely more on their minds than their hearts," as if anyone can discern another person's heart. This leads me to my first reason.

1. Spiritual Pride and Lack of Intellectualism

In addition to looking down on theologians, charismatics poke fun at non-charismatics (in a lighthearted way, usually). But it came across to me as spiritual pride. They also preach in a way that leads people to believe their interpretation of scripture is the right one. I know that preachers of all denominations can be guilty of this, but I noticed it a lot among charismatics. I have since met preachers who don't interpret scripture for you. Instead, they discuss the different theological explanations Christians have about a particular passage, and might give their opinion too, but they make it clear that it's their

opinion

and encourage you to study God's word for yourself. That's spiritual humility, and it's something I rarely saw among charismatics. In fact, they're often offended if you question their beliefs and actions and will try to convert you to their thinking. If you still aren't on board you'll be viewed as a baby Christian, lacking in faith, and "quenching the spirit." Charismatics need to break away from the mindset that they are marginalized and misunderstood by other Christians. That is the sort of thinking that leads to cult-like behaviors.

2. Sensationalism

Charismatics have an unhealthy preoccupation with dramatic, supernatural experiences. This is sensationalism and one of its main flaws is that it devalues the ordinary things of God, like sound teaching, sacrifice, service, and sacraments.

At a revival I once attended, everyone in the congregation who desired baptism in the Holy Spirit was asked to come forward. So I, along with every single other person in the congregation (probably 30 of us), made my way to the altar. The revivalist had us line up and he started at one end of the line, laying hands on each person and praying in tongues. One by one people either fell over, spoke in tongues, or jolted as if an electric shock ran through them. But when he got to me, nothing happened. And I felt the dude trying to push me! He quickly realized I wasn't falling over so he moved on to the next person. I felt totally disregarded. If he really cared about my baptism in the Spirit couldn't he have kindly prayed with me for a few seconds to receive the baptism at some point in the future, rather than moving on as if I were unworthy of his time? There were just a handful of people who didn't have anything sensational happen to them, and they cried quietly to themselves, probably because they didn't feel spiritual enough.

Why, in all of my years of being "open to the Spirit," did the Holy Spirit's power never come on me? I believed the supernatural gifts were for today and I would have defended that position to doubters. I have always loved God and strived to live a life that is pleasing to him-not because I feel it's a requirement for salvation, but because I

want

to. I'll tell you why nothing happened to me- because for many charismatics, it's a big show. They jump. They yell. They fall over. They convulse. Someone is always on the keyboard, ready to set the mood for the Holy Spirit to "move in this place." Prayers are fast and loud, adding a lot of filler words like "Lord Jesus." They babble and sway back and forth and bend over like they have appendicitis. I remember as a teenager feeling like my prayers weren't powerful enough because they were quiet, slow, and spoken as if I were talking to a friend. Once, a preacher's wife even took it upon herself to pray for me at the altar to be cured of my introversion so the Spirit's power could move through me. Does that mean God plays favorites based on personality type? I spent hours and hours of my life praying and waiting for the baptism of the Holy Spirit (you'll know when that happens because you'll speak in tongues, they say). Never happened. I guess I'm not a sincere Christian. I guess I don't love God enough. I guess I'm doing something wrong. Those were the thoughts I constantly wrestled with as a charismatic.

​

This is part one of a three-part series. Click here for part two!
Powered by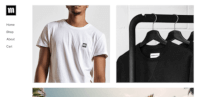 Create your own unique website with customizable templates.