A couple of years ago I shared a picture of our homeschool room, which we have since moved to a different room, combining our classroom and play space into one area. Our "formal living room" is now the classroom/playroom. What's the sense in two living rooms, right? It's also where we keep our computer...so we could call it an office too. I love it! And I am quite happy that all of the kids' stuff is in this one room. I am a minimalist, love functionality, and get irritated by toys laying around in every room of the house. It's also difficult for me (because I have tachycardia) to go up and down the stairs helping the kids find their lost toys. So storing all of the toys in this room works. The only exception to this is that we have a puzzle bin, craft bin, and a dress-up bin in a closet. So, here is our classroom.

Right in front we have our Lego table, which is where the kids play the majority of the time. We keep all Lego Duplos, including people and vehicles, in a bin underneath the table.

To the left we have our toys, which are separated into three bins. One is for a wooden farm set, one is for wooden blocks, and one is for all other toys. As I mentioned the other day, we have narrowed down our toys to a few brands that are either non-toxic or less toxic. Most of the toys we have now are Lego, Schleich, Wow Toys, and various wooden and cloth people and animals.

To the right is our play table. This is where they build with their wooden blocks and do puzzles and manipulatives while I'm working one-on-one with the other child.

In the center at the back of the room is our main classroom area. This is where we do our morning routine (Pledge, calendar, 100 chart, weather chart, etc.) and activities for the day. We also store the stuffed animals back here. They usually get a stuffed animal to read with when they're in the reading corner over there to the left.

Here's the reading corner. It's just a couple of bean bags and a bunch of books.This is where I send one of the kids while I'm working one-on-one with the other. They can also go to the play table and do puzzles and manipulatives.

And to the right is our kitchen area. The kids love to pretend to be chefs at a restaurant cooking food for their stuffed animals and dolls. It looks like right now they're eating popsicles. And yes, that's Jesus at the table. We store the dishes inside the sink and the food in a bin inside the oven.

On the top shelf of one bookcase I have our curriculum and workbooks. The next shelf has floor puzzles. We do one each day. The next two shelves have puzzles and manipulatives, which I switch out every couple of days. And the bottom shelf is where I store my books.

On the top shelf of the second bookcase I have art supplies that we use frequently, like markers, scissors, glue sticks, and paper. Only I can get these down. The next shelf has games. We do one each day. The next shelf is where I display books for them to read. The next shelf is where we keep coloring books and a bin full of crayons and colored pencils. They're allowed to get these out any time they want, as they've proven themselves to be over the coloring on the wall phase. Oh, and on the very top we have a bin of regular sized Legos.

And I think that's about it! It's nothing spectacular, but it works for us! If you have a blog where you've posted pictures of your classroom I would love for you to share the link!
Powered by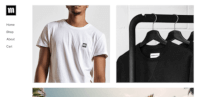 Create your own unique website with customizable templates.